Failed asylum seeker's daughter at 'high risk of FGM', judge rules
Published 07.03.2020, The BBC
A failed asylum-seeker's daughter is at "high risk" of female genital mutilation (FGM) if she and her mother are deported, a senior judge has ruled.
The High Court heard the woman, who has links to Bahrain and Sudan, has been refused asylum by the Home Office.
Mr Justice Newton made an FGM protection order after the High Court ruled in 2019 the Home Secretary could deport her despite the risk.
The case, brought by Suffolk County Council, is the first of its kind.
Barrister Charlotte Proudman, who represents the girl's mother, called on Home Secretary Priti Patel "to show compassion… and make sure a child is kept safe".
---
Caroline Flack: Crown Prosecution Service under fire for 'dogged pursuit' of TV star over domestic abuse charges
Published 16.02.2020, The Telegraph
Lawyers have accused the CPS of ignoring its own guidance on mental health in order to pursue Miss Flack
---
Cambridge don quits after outcry over sexual harassment ban U-turn
Published  06.11.2019, The Guardian
Trinity Hall's decision to readmit Peter Hutchinson had caused outrage at the college
Human rights barrister Dr Charlotte Proudman, a junior research fellow at Queen's College, Cambridge, said Hutchinson's resignation was "long overdue".
She added: "[It] will no doubt be a relief to many of those at Trinity Hall who have been affected by its appalling response. But the onus should have been on the college to remove Dr Hutchinson from his post as emeritus fellow.
"A review of the college's procedures is certainly welcomed. It needs to include students, staff and academics, not just a select few who have no incentive or motivation to really shake up the institution."
---
Cambridge harassment row fuels calls to reform college system
Published 20.10.2019, The Guardian 
Readmission of Dr Peter Hutchinson to Trinity Hall events has been heavily criticised
The human rights barrister Dr Charlotte Proudman, a junior research fellow at Queen's College, called Hutchinson's reinstatement a "slap in the face for survivors of sexual harassment". She added: "The college has given fellows a licence to abuse their power with impunity. Women students are not safe in their own colleges. Next time the college could be responsible for irreparable harm. We need urgent reform."
---
Cambridge fellow calls for independent inquiry into University's handling of sexual misconduct complaints
Published 31.07.2019, Varsity
Charlotte Proudman has also called for the Pro-Vice Chancellor to apologise for his comments in a Channel 4 interview on sexual violence at Cambridge
Dr Charlotte Proudman, a barrister and Junior Research Fellow in Law at Queens' College, has called for "an internal inquiry into how complaints of sexual misconduct are handled by the University" after it emerged that a single academic had ruled the current University disciplinary regulations do not cover sexual misconduct.
Describing the process as "woefully lacking", Proudman argued that "the University is not meeting its duty of care to students".
Last week Varsity revealed that the Chair of the Discipline Committee had ruled that the term 'harassment' within the University's regulations was being interpreted too widely, and that sexual misconduct complaints should not fall under the definition of harassment.
This ultimately led to a student being that told their complaint against another student, who they said had sexually assaulted them, could not be taken forward.
Since then, a second student has come forward to tell the story of how it was their complaint, against a student who they say raped them, that set this precedent when the case was dismissed by the Chair of the Discipline Committee on 20th June.
There are currently four chairs of the Discipline Committee, and the University did not respond when asked which of the four had ruled on this decision. Two of the chairs declined to comment. Two did not respond to requests for comment.
Proudman, who specialises in the law surrounding gender-based violence, said that "given the gravity of the complaints that are being made against the University" there should be an independent inquiry into their handling of sexual misconduct complaints. "The University has an inquiry ongoing into its links with the slave trade, quite rightly so, and I don't see why this should be any different", she explained.
In a Facebook post condemning the Chair's decision, CUSU Women's Campaign also called for the University to "commit to exploring every possible avenue for a solution to this problem".
The group argued that "it is unacceptable for the University to simply sit back and wait for the new procedure to come into place in October. In the interim months the University is seriously failing students who need to access the procedure."
According to FOI data obtained by Varsity, since the introduction of the current University Discipline Procedure in October 2015 there have been 10 cases taken forward by University students against other students or former students. Seven of these have related to "sexual acts".
Of these, only two were upheld by the Discipline Committee. Two had insufficient evidence to proceed, two cases did not give a reason for being unable to proceed and one was withdrawn by the complainant.
The Senior Pro-Vice Chancellor "ought to apologise" for his comments, Proudman said.
This means that there have now been more cases dismissed in the past month due to the Chair's decision than have been upheld by the University under this procedure in the past 3 years.
A University spokesperson told Varsity that "cases of sexual misconduct that constitute harassment are still being brought forward under existing regulations". They did not respond to specific questions regarding the Chair's decision that sexual misconduct complaints do not constitute harassment.
From 1st October, a new disciplinary procedure will come into force that will explicitly define 'sexual misconduct' as a breach of the rules of behaviour for students, effectively overruling the Chair's decision.
However, this new system will only work prospectively, meaning complaints to the University made by anyone who was, or is, sexually assaulted or harassed before this coming October will be assessed under the old procedures, even if complaints are filed after this date. And because of the Chair's recent decision, such cases would likely not be found to constitute harassment.
A University spokesperson told Varsitythat "cases of sexual misconduct that constitute harassment are still being brought forward under existing regulations". She reported her rape to the University, then it was dismissed: How a second student's complaint was stopped in its tracks.
Proudman has also said that Professor Graham Virgo, Senior Pro-Vice Chancellor for Education, "ought to apologise" for his comments in a recent Channel 4 News interview.
On the 18th July, just 5 days before Varsity first reported that the University would no longer be taking forward some sexual misconduct complaints, Virgo appeared on Channel 4 News to respond to their story on sexual violence at Cambridge.
In the interview he said that, "Since 2016 we now have made provision for sexual misconduct within our disciplinary processes." He went on to claim that "the situation is fit for purpose clearly."
When asked by the presenter, Cathy Newman, if he was "concerned that women might have grounds to sue Cambridge University on grounds that their education has been impeded", Virgo replied: "Not where we are now, with our new processes I am confident that we are in a position to fully support all our students."
Since the interview two women have spoken to Varsity about their reports of sexual assault and rape being dismissed after being told the University procedures do not cover sexual misconduct. These cases were dismissed on 20th June and 4th July 2019, 28 days and 14 days, respectively, before Virgo appeared on Channel 4.
The University did not respond when repeatedly asked if Professor Virgo was aware of the Chair's decision before going on Channel 4 News. Varsity understands that Virgo discussed the Chair's decision with members of CUSU in early July, prior to his appearance on Channel 4.
Proudman argued that Virgo should apologise as he "misrepresented the information [the University] had at the time when he answered that question" and gave "a misrepresentation of the fact that allegedly the University is able to confidently investigate such complaints."
"In reality [the University has] unilaterally, by the decision of one chair, changed its mind on how to deal with sexual misconduct complaints up to October 2019, which could result in no such complaints even being investigated."
"There could be sexual misconduct complaints between now and October! Those alleged perpetrators that may have been involved in such behaviour know that they can then act with impunity and the University will do nothing about it. [Concerning] any complaints between now and then, that's the message that it sends out."
A University spokesperson said: "Cambridge places the utmost importance on the welfare of its students, and continues to offer support, advice and the option of the University taking action to anyone who has experienced a form of harassment." 
"We have made huge progress on our provision for this since universities were given a mandate to investigate cases of sexual misconduct but where we have identified areas for improvement, we've taken action, including undergoing a consultation on changing the disciplinary system which has resulted in new regulations coming into effect from 1 October."
Proudman also told Varsity she believes "the decision that potentially the University will not investigate complaints of sexual misconduct that occurred pre-October 2019", and that students cannot appeal the decision, could be against the law.
"I don't think the University can say that from a legal standpoint. I think you could have a judicial review of this new guidance that they're bringing out to say they won't actually review [sexual misconduct] cases, potentially, pre-October 2019. And I think that would be irrational and Wednesbury unreasonable, I don't think that would stand up in a court of law if someone were to take that case. I really don't."
"I think it would be really good to actually see a case in court where there is a clear breach of the Equalities Act and the court rules there is, because they don't appear to accept, in my view, that they even have a duty to investigate properly in these cases. How is it fair that there is one member of staff who sits in this office and decides whether any of these complaints are going to result in charge?"
---
Does Cambridge University have a rape problem?
Published 18.07.2019, The Telegraph
Proudman suggests our figures are a serious underestimate: "I suspect it's thousands. And I suspect part of the reason for the low figure is that many women are not aware of the reporting process." Barrister Charlotte Proudman, a research fellow at Queens' College Cambridge, has been working with female undergraduates who report having been sexually assaulted.
–
She calls the university's response to the woman "appalling" and says our investigation is "the tip of the iceberg" – even with the anonymous reporting system in place. "Colleges have failed to investigate; the university has turned women away when they've gone along with either informal or formal complaints," she says.
–
"Often the consequence is that these complaints are swept under the carpet and women are not protected. These victims are not given the support they so desperately require." "At some point there's going to be a case in the High Court which says universities are actively and woefully breaching the Equality Act. Only then will the Government and educational institutions take notice," she says. "Until then, we will continue to see a haphazard approach; women not being protected and perpetrators effectively able to continue sexually abusing them without any form of consequence – with impunity."
---
Home Office to rewrite controversial advice on trafficked Nigerian women
Published 02.07.2019, The Guardian
Claim that victims could return to Africa 'wealthy and held in high regard' sparked outrage. Dr Charlotte Proudman, a human rights barrister who represents women and girls in cases of gender-based violence, particularly female genital mutilation, led criticism of the guidance, saying the suggestion that trafficked women were wealthy and enjoyed a high socioeconomic status was "fundamentally wrong".
'Wealthy from prostitution': UK Home Office advice on trafficked Nigerian women angers campaigners
Advice for Home Office officials suggested victims could return home having benefited economically from being trafficked
Published 02.07.2019, The National
Human rights barrister Dr Charlotte Proudman said the latest Home Office advice brought to light the limitations of Britain's approach to tackling modern slavery.
"Modern Slavery legislation was a big step in the right direction in recognising the violation of vulnerable individuals. However, there is a high level of inconsistency in the responses to victims with some suffering as a result and many public authorities remain unclear about what the legislation actually says. The number of convictions still remains low in contrast to suspected numbers of modern slavery type abuse," she told The National.
"I have had clients who have been through the national referral mechanism and been told they are not victims of sex trafficking when they clearly are. The definition can be limited and the decision-making variable rather than consistent."
The Home Office's updated advice to decision-makers notes that some female victims of trafficking could be subjected to reprisals or re-trafficking.
---
Home Office advice on trafficked women from Nigeria sparks outrage
Published 01.07.2019, The Guardian
Trafficked women can return to Africa 'wealthy and held in high regard', says guidance. The paragraph reads: "Trafficked women who return from Europe, wealthy from prostitution, enjoy high social-economic status and in general are not subject to negative social attitudes on return. They are often held in high regard because they have improved income prospects."
---
Call for inquiry into abusive parents' access to children
Published 15.05.2019, BBC News
Barrister Charlotte Proudman, who specialises in cases involving violence against women, told the BBC she had witnessed a perception that mothers were preventing contact with fathers without good reason.
"I've heard judges say, 'Oh, it's just a little bit of domestic violence.' It's minimised rather than seeing the significance of that," she added.
---
Call for Sajid Javaid to review FGM risk girl case
Published 09.03.2019, BBC News
The lawyer for a failed asylum seeker fighting to protect her daughter from female genital mutilation (FGM) says the Home Office should review the case.
Last week the High Court ruled a judge could not prevent Home Secretary Sajid Javid from deporting the woman.
Barrister Charlotte Proudman said Mr Javid should show his commitment to combating FGM by not exposing the child to the risk of the crime.
The Home Office said it would not comment on "ongoing legal proceedings".
The child is being represented by Suffolk County Council.
On Tuesday, Sir Andrew McFarlane, president of the family division of the High Court, concluded that a judge could not bar Mr Javid from deporting the girl's mother.
He heard how the woman had links to Bahrain and Sudan.
She feared that, if she left Britain, she would end up in Sudan where her daughter would be subjected to FGM.
The court has ruled that the child cannot be identified.
Dr Proudman said: "The Home Secretary cannot on the one hand say he is committing to protecting girls against being subject to FGM yet at the same time deport this woman and put a child at risk of FGM.
"I would urge him to review this case, regardless of the judge's ruling, and keep this child safe."
Another judge, Mr Justice Newton, is now scheduled to look at further issues in the case at a future hearing.
He is set to assess issues including the level of risk the girl faces and whether she could be protected abroad.
Mr Justice Newton has described the case as the first of its kind.
FGM perpetrators are cutting babies
Published 05.02.2019, The Times 
Babies and toddlers are falling victim to FGM as perpetrators cut them while they are too young to remember it, barrister warns.
When FGM is performed on an infant, it is harder to detect because they cannot report the abuse themselves and are not old enough to be at school, where the signs may be spotted by teachers or other professionals, according to Charlotte Proudman, a lawyer who specialises in these cases […]
Ms Proudman said that there was a lot of anecdotal that showed FGM was being performed on babies. "From the cases I work n, it has become apparent from speaking with people in a affected communities that FGM is being performed on girls who are months, weeks or even days old," she told The Times […]
Ms Proudman said that FGM was most often carried out on girls from the age of six up to 11 but she had worked with focus groups who said the victims were often a younger age. They are evading the law by changing the practice […]
Ms Proudman said that most of the pressure to perform FGM came from grandmothers who wished to continue the cultural practice, often against the wishes of the parents.
The Home Office last year refused asylum to a woman even though a family judge ruled that her nine-year-old daughter would be at risk of FGM if returned to Sudan. The family court is due to hear the case this week and make a ruling this month, Ms Proudman said.
---

FGM 'increasingly performed on UK babies'
Published 04.02.2019, BBC news
Female genital mutilation (FGM) is increasingly being performed on babies and infants in the UK, the Victoria Derbyshire programme has been told.
FGM expert and barrister Dr Charlotte Proudman said it was "almost impossible to detect" as the girls were not in school or old enough to report it.
In one report, in Yorkshire, a victim was just one month old.
The National FGM Centre said it was "not surprised" that victims may be younger now.
Charity Barnardo's and the Local Government Association – which together run the centre – said its community engagement was "key to protecting girls".
Their comments follow the first UK conviction for FGM.
The mother of a three-year-old girl was found guilty at the Old Bailey on Friday of mutilating her daughter. Her partner was acquitted.
FGM includes the partial or total removal of the female external genitalia or other injury to the female genital organs for non-medical reasons.
Dr Proudman said there was "a lot of anecdotal data which shows FGM is now being performed on babies.
"These girls are not at school, they are not at nursery, and so it's very difficult for any public authority to become aware," she added.
"By performing it at such a young age, they're evading the law."
In response to a Freedom of Information request, West Yorkshire Police said a quarter of its FGM reports (17) between 2015 and 2017 involved victims aged three or under.
The National FGM Centre said there was "anecdotal evidence from some communities that FGM laws can be circumnavigated by performing the procedure on girls at a much younger age".
"The girls are unable to report, the cut heals quicker and prosecution is much harder once evidence comes to light and the girl is older.
"There needs to be much greater recognition of this issue across different areas of the UK."
Experts say authorities need a more joined-up approach when dealing with FGM.
It is claimed children's services can be unsure when to intervene. Doctors are not always reporting it to the police – and even if they do, officers do not always know what to do.
"People are concerned about cultural sensitivities, worried about being branded racist, and it's being performed on a very private area," Dr Proudman said, explaining why it has taken many years for the first UK conviction to arrive.
Figures seen by the Victoria Derbyshire programme show that 939 calls were made to emergency services to report FGM between 2014 and 2018.
But the Crown Prosecution Service has only received 36 referrals for FGM from the police since 2010.
One 2015 report by City, University of London estimated 137,000 women and girls in England have been victims of FGM.
---
Mother of three-year-old is first person convicted of FGM in UK
–
–
Charlotte Proudman, a leading barrister who specialises in FGM, told the Guardian: "The conviction is hugely significant, securing justice for the girl but also in sending a strong message that this crime will not be tolerated."
She questioned if health workers were fulfilling their mandatory reporting duties, and highlighted a legal loophole that meant professionals only had to report cases in which children had already undergone FGM, rather than those also deemed to be at risk.
---
Girls 'at heightened risk' of FGM and forced marriage as police not told of protection orders
Published 8.12.2018, Independent
Charlotte Proudman, a leading barrister who specialises in FGM cases, agreed with Mr Singh. She said: "The courts should be responsible for notifying police and the police should have responsibility of serving the order otherwise significant delays can ensue during which time girls could be cut or forced into a marriage."
She added the previous system had been "haphazard," citing a recent example of a client she represented pro bono after they failed to secure legal aid. "I went to court for a woman to protect her young daughter from having FGM performed on her by her paternal family," she said.
"An order was granted, but the woman had no financial means to pay someone to serve it. "In this case, the High Court judge said we should contact the police but they told us it was not their responsibility which resulted in delays. Eventually the woman took out a loan, but if the onus was on the police to serve these orders we would not have these gaps leaving girls at risk."
---
More than 100,000 British girls affected by female genital mutilation
Published 30.11.2018, Metro
 –
The number of British girls believed to be at risk of female genital mutilation have more than doubled in a year, with 100,000 already affected, a barrister has said. Barrister Charlotte Proudman said judges have made more than 200 FGM protection orders since it was introduced in 2015, adding that the system is working. Around 1,960 cases were reported between 2017 and 2018, more than twice the 970 cases reported the previous year, according to government figures.  She told lawyers, judges, police and social workers at a conference in London that between July 2015 and December 2017, judges had received 222 applications and made 205 orders.
–
FGM is a harmful traditional practice involving the cutting or removal of the external female genitals. There is absolutely no medical or religious justification for the act, which in the UK is deemed as a form of child abuse and has been illegal since 1985.
–
An NSPCC spokesperson said: 'Sadly, the true picture of how many girls and women affected by this abhorrent crime is likely to be much higher because for far too long the practice of FGM has been cloaked in secrecy.  'Since we launched our dedicated FGM helpline we have had nearly 2,000 calls, and last year we referred 82 cases to the authorities. 'By encouraging communities to speak out we hope to bring an end to this dangerous and illegal practice in the UK.'
–
Psychotherapist Leyla Hussein, who campaigns on FGM issues, told the conference, organised by barristers at Goldsmith Chambers and the National Police Chiefs' Council, that FGM is one of the worst forms of sexual assault. A new drive was launched by the Home Office in October to tackle the 'hidden crime'.
–
It is practiced in around 30 countries globally, mainly in Africa, some parts of Asia and the Middle East. It has existed for more than 2,000 years and is performed on girls from birth up until around the age of 15. Globally more than 200 million girls are at risk. It is also now against the law in the UK to take a child abroad to be cut and protection orders can be granted to youngsters at risk of FGM.
---
Those accused of sexual harassment in the #MeToo Campaign return to the spotlight
Published 04.09.2018, Sky News
Sky News interviewed Dr Charlotte Proudman about the impact of the #MeToo campaign upon tackling sexual harassment in the workplace. Whilst it initially seemed to be a turning point, alleged perpetrators returning to the public eye after just a few months is a sign that the movement has not had the long-lasting effect many predicted. Dr Charlotte Proudman explores some of the reasons for this and argues that without structural change, such as gender parity in the workplace, little change will ensue.
---
Sex Misconduct Claims Among U.K. Lawyers Hit Record After #MeToo
Published 14.06.2018, Bloomberg
Most agree the change in attitude toward sexual harassment complaints is long overdue. In 2015, before the Weinstein scandal, a junior barrister was branded a "feminazi" by a tabloid newspaper after she called-out a senior solicitor on Twitter for complimenting her on her LinkedIn profile photo. The publicity led to a flood of online abuse that included death and rape threats.
Still a barrister today, Charlotte Proudman thinks things may have turned out differently if she'd taken the same stance post-Weinstein.
"I still would have perhaps got a backlash, questions about whether I have gone over the top, but I don't think it would have happened to the same extent," Proudman said. "I don't think I would have been on the front page of the Daily Mail" twice.
---
Law's gender problem: levelling the playing field for women
Published 20.03.2018, Law Careers
Deep-rooted male dominance and power across the legal profession holds women back, but is change for the better on the horizon? This article discusses the evidence and looks at how male dominance of senior positions and promotion pathways is related to the cultural problems that have enabled those who behave inappropriately, or worse, to operate for so long. More importantly, we explore the practical steps that could help to create an equal and safe profession where success is based solely on merit, not gender. 
–
For feminist barrister and women's rights advocate Dr Charlotte Proudman, the movement may mark a "watershed moment": "When victims of Harvey Weinstein began coming forward, with high-profile women in Hollywood putting a spotlight on the serious abuse going on within the echelons of power in the movie industry, it caused a ripple effect into other workplace sectors and we have seen more women in the legal profession speaking out publicly, albeit often anonymously, for the first time about their own experiences of harassment and discrimination by those senior to them and holding power over them. Nothing of this nature has happened before – in the past when the odd case became public, a woman was demonised, such as myself, or it was either swept under the carpet or did not gain such a level of media traction that other women felt compelled to come forward to report other instances. Now there is a movement and wide discussion about the prevalence of this behaviour, how wrong it is and how something needs to change."
–
"NDAs are a significant problem because they silence women from speaking out and effecting change," Proudman explains. "The covering up of sexual assault and harassment often in the context of elite firms enables patterns of harassment and abuse to continue unchallenged. This is also just one example of the law itself being used to reinforce male power and privilege and to provide the perfect climate for male abuse and exploitation to flourish unchecked, which is particularly worrying for the legal profession which is supposed to be the upholders of the rule of law – you know, equality and freedom".
–
Proudman, a staunch supporter of quotas, puts the case: "Quotas are certainly one way of achieving more equal representation of men and women. They are also not unheard of in law – Belgium's constitutional court uses them, for example. I don't agree with the argument that quotas would make women feel undermined by men believing that they are only there because they are women – there are plenty of examples of women who are better qualified for such roles and have more experience, but aren't being promoted to top positions because of their gender. I think appointing women to senior positions would create greater confidence among other women."
–
She continues: "Shami Chakrabarti is one of the only high-profile women lawyers who champions quotas, and she does so compellingly in her new book, Of Women in the 21st Century. If there is a change of government at the next election and Chakrabarti is appointed attorney general, we might then start to see a real change for the better. We have tried mentoring, which is very slow and often results in men mentoring women because there aren't enough women in senior positions to mentor the women more junior to them. We also unfortunately see structural inequality manifest itself whereby a small number of women who have attained senior positions feeling threatened if other women are brought on board, because they believe that there only a small piece of the pie is allocated to women and therefore do not create a supportive environment for others. A famous example however dated it might be is of course Margaret Thatcher, who ensured she was the only senior woman in her government rather than using her power as prime minister to  level the playing field for women."
–
However, while Proudman agrees that flexible working is imperative, she comes back to the attitudes of some of the men entrenched at the very top of the profession and of society: "I think we are never going to see gender equality unless there is equality of power. That means a redistribution of power where men give up their positions to allow women to have a seat at the table. Many men will not be willing to give up that level of power – are some of the current sitting Supreme Court justices willing to relinquish their positions for women so Lady Hale and Lady Black are not the only two women flying the flag for 50% of the population? I don't think that men will – and nor are senior partners earning phenomenal salaries at magic circle law firms.
–
Where there is male dominance – unaccountable power held by one social demographic in society – we know that this means that others, such as women, ethnic minorities and disabled people, are vulnerable to exploitation. Conversely where power is balanced between, for example, women and men, the vulnerability to to exploitation is reduced. And of course, other intersectional patterns of inequality are important – everyone needs to be represented. Nonetheless women are 50% of the population, so we should be equally represented at all levels of society, even more so in politics and the justice system, which are supposed to be the upholders of democracy."
---
'Those involved in FGM will find ways to evade UK law'. Despite a nearly fivefold increase in alleged FGM, lack of evidence to prove it is happening is hampering prosecutions
Published 07.03.2018, The Guardian
Charlotte Proudman, a human rights barrister, who has recently completed a PhD in FGM law and policy, interviewed 40 women from Somali communities in London, Leicester and Birmingham, held two focus groups on FGM and also spoke to 39 professionals.
–
She says finding out who performs FGM in the UK is extremely difficult. "I was told girls are being cut, and sometimes women before they get married," she says. "They know where to go in the community but keep it very close to their chests and don't inform people about what is going on." It is so underground that the task of locating those carrying it out remains incredibly difficult."
–
"I was told anecdotally that type 4 FGM [where a smaller incision or prick is made to the female genitals] is on the rise as a way of performing FGM without it being easily detectable. But, symbolically, it can still be said the woman has had FGM."
–
Her research also indicates that some girls were being cut as babies before they went to school to keep the illegal practice under the radar. At one focus group in London, she says participants spoke about women travelling to Birmingham to have FGM done by a quasi-medical practitioner but couldn't get any more details.
–
Proudman found that because many affected communities are socially isolated, or resistant to dealing with public services, it makes gathering intelligence incredibly difficult. "Those involved are savvy and know what the law is, but will find ways to evade it."
---
Female genital mutilation prosecutions: 'A tough battle to challenge community traditions'
Published 07.03.2018, Lexis Nexis
Human Rights barrister from Goldsmith Chambers, Dr Charlotte Proudman, agrees that understanding across the cultural and religious aspects of FGM pose a significant challenge to successful prosecutions: 'Professionals need more understanding about the key drivers for FGM both culture and inaccurately, religion. Changing hearts and minds will only happen when FGM is seen as part of a group identity.' Proudman adds that some individuals, who are aware of the law, may 'ensure it is performed on babies to prevent detection'.
---
Sex and power: Is this a turning point?
Published 03.10.2017, WikiTribune
Charlotte was interviewed about sexual harassment in the workplace by journalist Lydia Morrish for WikiTribune.
Reducing systemic sexual assault requires a rebalancing of the whole concept of power between men and women, women's rights advocate and lawyer Charlotte Proudman told WikiTribune. "Until we change male dominance, I don't think we're going to see a real transformation in the way in which women are treated in the workplace. It [the focus on harassment is] a good step forward, but I don't think it's enough."
Proudman was herself at the center of a workplace misconduct case in 2015, when a senior partner at a law firm commented on her appearance in her LinkedIn profile photo. According to a Guardian report at the time, Proudman said that the comment on her appearance sought to eroticize her, which was an act of men "exercising power over women."
Charlotte Proudman said non-disclosure agreements (NDAs) should be restricted in order to protect people from harassment. Also known as confidentiality agreements, an NDA is a legal contract that sees victims in sexual harassment cases receive a sum of money in exchange for silence about information regarding the abuse. Commonly used between employers and employees, NDAs require both parties who sign the agreement to keep information private.
It's particularly an issue in the U.S., according to Proudman. "Effectively, the law is sanctioning the silencing of women because of the wealth and power that men have in contrast to those individuals bringing such claims."
---
Women in Law: What Needs to Change? An Interview with Charlotte Proudman
Christianah Babajide, sat down with Human Rights barrister, Charlotte Proudman, to discuss gender inequality in the legal profession itself.
Published 22.07.2017, Lawbore
CB: Have you faced any challenges as a woman in law?
CP: All women have faced challenges, especially in the legal profession. I think women have to work twice as hard as men to be recognised for their talent and ability. They have to prove themselves by over compensating. I'm thinking of the classic workplace meeting scenario where a woman proposes a key change to her group of a colleague and no one bites. A moment later, a male colleague proposes exactly the same change but with the added advantage of a male voice and everyone agrees. Imagine how this can play out in the courtroom when barristers core role is advocacy.
Another challenge for women in the law is adopting gender-based stereotypes, the same old tired tropes of women and men that are often played out in the courtroom. In a context of rape, she was asking for it – she was drinking and wearing a short skirt! When there is domestic violence the woman is seen as complicit in the violence perpetrated against her because she didn't leave the relationship. Or on the other hand, she drove her husband to murder because he was consumed by jealous rage on finding her with another man. The emphasis is on the behaviour of women rather than male perpetrators. These sorts of gender-based stereotypes are used for a variety of reasons mainly because judges and juries identify with them. Women are blamed for violence against them because their behaviour conflicts with preconceived notions of how a reasonable "man" would behave. The law is built on understandings of how men would and should behave in certain situations. Still today the law is written using the masculine pronoun. In this way, arguably half of the population are excluded.
CB: On International Women's Day, you appeared as a panellist at the City, University of London event. What points did you make as to dress codes and what professional looks like?
CP: I think Nicola Thorp hit the nail on the head as to what professional image looks like. She challenged the so-called professional dress code of a company and revealed that the high heels code was created by a man, who decided high heels constitutes appropriate uniform for women, however, no-one seemed to give any thought as to whether women wanted to wear heels. The impact of having a gender-based dress code reinforces gender inequality and contributes to how men and women are seen in the workplace, in particular how women are objectified in the workplace. Men are often viewed as professional, respected merely for the position they are in, while women strive to be seen as professional first and foremost but are not always. Ultimately women are often objectified through their physical appearance, whilst men are not. Whilst some women may use their sexuality as a form of currency or power, there are other women who cannot conform to the ideal body attributes and there are women who do not want to conform.
---
Charlotte Proudman: Why I took a stand against sexism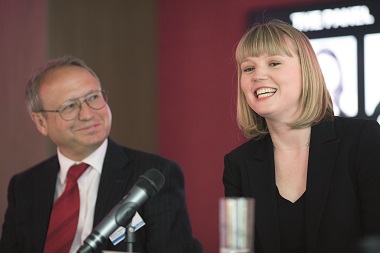 Published 24.06.2016, CMI
The lawyer who found herself the subject of a torrent of abuse for standing up to sexism talks to CMI about how she weathered the storm and bounced back stronger than ever.
"My career has taken a different but positive twist. I have been branded a feminist barrister so I have decided to own it, and to use the platform I have been given to speak about women's rights, and the need for progressive legal change."
"I continue to move forward, and learn from those experiences."
"After all, I'm on the right side of history."
---
Feminist lawyers: the fight for gender equality in the legal profession
Published 10.05.2016, Lawcareers
Charlotte was interviewed by Lawcareers about the ongoing fight to achieve gender equality in the legal profession.
This is still a profession in which many would rather a junior barrister, Charlotte Proudman, remain "professional" (ie, silent) when faced with a senior colleague's sexist behaviour than challenge it. Indeed, the attitudes of those in senior positions are falling well behind those of more recent entrants to the profession. "Legal constructed discrimination dominates statute and case law," says Proudman. Proudman discusses rape, abortion and prostitution laws.
---
Barrister fighting for women's rights in and out of court
Charlotte Proudman interviewed by journalist Katie Grant at the inews.
Published 30.04.2016 (in print), Independent
Speaking out against sexism had "ruined" her job prospects, she was warned. Seven months on, though, Ms Proudman's career is thriving. The lawyer, 27, continues to practice part-time while she completes her PhD on female genital mutilation (FGM) in England and Wales at the University of Cambridge – and has managed to combine her passion for combatting FGM with her legal knowhow, representing at immigration tribunals vulnerable women at risk of being cut abroad.
Unlike many women in her field, she is not afraid to discuss the "institutional sexism" within the legal profession. Of the UK's 12 Supreme Court judges, only one is female. Incredibly, last year, one of that number, Lord Sumption, cautioned against hurrying to install more women in senior judicial positions as male candidates could be deterred from entering the profession.
"Our democracy is very much controlled by male interests…There are huge problems in the way the law is designed and enforced. There's bound to be – only 25 per cent of the judiciary are women. The legal profession is predominantly white upper-class men."
But Ms Proudman said she is determined to carry on "fighting the good fight". After all, she laughed, "what feminist hasn't run into trouble?"
---
Gendered Lives, Gendered Laws: Charlotte Proudman on Women in Law, the Nordic Model, and the Old Boy's Club
Published 27.04.2016, Loughborough University
The subject of Charlotte's discussion was the need for quotas of women in the higher echelons of the legal profession: specifically for judges and Q.C.s. To argue her point, Charlotte outlined how the legal profession functions as something of an old-boy's club, drawing attention to the way that it excludes not only women but also people of colour and those from less privileged backgrounds (in particular those educated at state schools).
From here, she drew attention to the ways in which the British legal system disadvantages women, in particular focusing on sexual and domestic violence and legal issues surrounding sex-work. Much of the discussion focused on prostitution, with Charlotte arguing that Britain should adopt the Nordic model advocated by Catherine McKinnon, in which the burden of guilt falls on those who purchase sex-workers' services rather than sex-workers themselves.
Of course, the discussion didn't focus solely on this issue: Charlotte also fielded questions on advice for women considering going into the legal profession, spoke about her own experiences of sexism, and spent some time discussing the way that female genital mutilation attempts to police feminine sexuality – a subject which forms the basis of Charlotte's doctoral research.
---
Charlotte Proudman: We 'should embrace' the 'angry feminist'
Alice Chilcott talks LinkedIn, law and lad culture with Charlotte Proudman, the Cambridge PhD student turned women's rights campaigner.
Published 26.02.2016, Varsity
Proudman tells me she went into the law to change women's lives, but disenchantment with what she terms the "institutional sexism" of the legal profession itself set in quickly. "I thought that law could be used as a tool to actually change women's realities and the position they find themselves in…. In actual fact, I realised, how could you possibly advance women's position in society through the law, when the law itself is discriminatory and sexist?"
She criticises the recent suggestion of Supreme Court Justice Sumption that a rush for gender equality would destablise the judicial system. "Women have been told this, continually, for 50 years, 100 years, 150 years – just be patient and wait. Well, if women continue to wait, in a system infused by sexism, where men have the power to promote women, they will be waiting in biblical proportion.
"They will not be promoted, and they are not being promoted – not because they're not the best at the job, because of structural disadvantages. This is more important in law, as well perhaps as politics, than any other areas. When it comes to law, women are presumed to consent to the law's rule and yet they're not equally represented."
She gives the example of prostitution laws. "Who are the ones who are sexually exploiting women? Men. Who are the ones who go to prison? Prostituted women."
It's a sobering thought that Proudman's logic is effectively a recalibrated version of that put forward over 100 years ago by Emmeline Pankhurst in her auto-biographical polemic, My Own Story. The suffragettes' mantra, too, centred on the denial of the legal jurisdiction of a government which refused to allow women to participate in the formation of the law. Now Proudman, whose own grandmother was a suffragette, is determined to transform the system from the inside.
"I think I'll go back to law. There's nothing more rewarding than representing women in particular in court, in providing an outcome which can have a dramatic change on their life…
"So I think, ultimately, I'll go back and I'll continue the fight, most notably in trying to overturn discrimination, and to introduce feminist laws, such as quotas for women."
Proudman uses words like "fight" and "sisterhood" without a hint of self-consciousness or affectation. Listening to her, one is immediately struck by just how real this "struggle" is. If the vision of feminism she presents seems at times pessimistic, it is heartening to know that there is someone out there who is unashamedly devoting her life to combating the issues she highlights.
It is inconvenient for Proudman's critics that very little about her fulfills the stereotype of the shrieky, haranguing man-hater that they seem so keen to perpetuate. She has a low, gentle voice, and the urgency of the message she is trying to convey is matched by the articulacy with which she manages it. She's never heard of Cuntry Living, and is cautiously enthusiastic about the participation of men in feminist discourses.  At the same time, she does not wish to shy away from the image of the 'angry feminist'. "In a society where you're constantly facing sexism on an everyday basis, to get angry about that – to be strident in your feminism – is completely justifiable.
"We shouldn't accept those types of criticisms that are levelled against us – or if we do, we should embrace them."
And she's willing to take any opportunity to further her cause.  "Keep the bit about quotas?" she asks me, as she leaves. "I want people to see that."
---
 Women of the world festival Cambridge 
Cambridge Edition magazine interviewed Charlotte Proudman in the run up to Women of the World Festival Cambridge.
Published 02.2016, Women of the world
Proudman is a staggeringly accomplished woman; a barrister in family law, an expert in female genital mutilation, forced marriage and honour-based violence, and a doctoral researcher here at Cambridge researching FGM in England and Wales. We asked her if feminism is still important here in the UK where we have relative equality compared with women in other countries, and she said, "Patriarchy is universal and cross-cultural; it's not something to one society and not others… I think it's important to have feminism wherever you have gender inequality".
---
Women at the bar
Unless you've been living under a statue of Mary Wollstonecraft, you'll have noticed that the subject of women at the Bar has been everyone's business lately.
Published 02.12.2015, Chambers Student
Diversity at the Bar is a hot topic. This year we've seen two Bar Council studies on the prospect of equality and women's lived experiences in the profession, and a social media storm that left very few unprepared to chip in (until a supreme court judge almost stole the limelight). Charlotte Proudman and other women barristers attempt to answer what should be simple enough questions: What is it really like for women at the Bar? Will there ever be as many female barristers, silks and judges as there are men? And what needs to happen for the numbers to improve?
---
City firm wants to shake off 'old boys club' reputation but Charlotte Proudman isn't convinced
Published 02.12.2015, Legal Cheek 
"While the scheme is a welcomed step to achieving gender parity, it is important to point out that such schemes should not focus on teaching women to lean in or behave more like men. Gender inequality is not a reflection of women's inadequacy, it is a reflection of male power… Only quotas for women will ensure absolutely equality. If you believe in gender equality then there can be no justification for supporting anything less."
---
Interview with Charlotte Proudman: What happened next
Published 07.11.2015, The Saturday Times Magazine
---
Sexism debate in the legal profession
Published 10.2015, The Norwegian Bar Magazine